"Breakfast with Mooli":
Prof. Mooli Lahad, Trauma Expert from Israel, Speaks with Community Leaders and GSS Faculty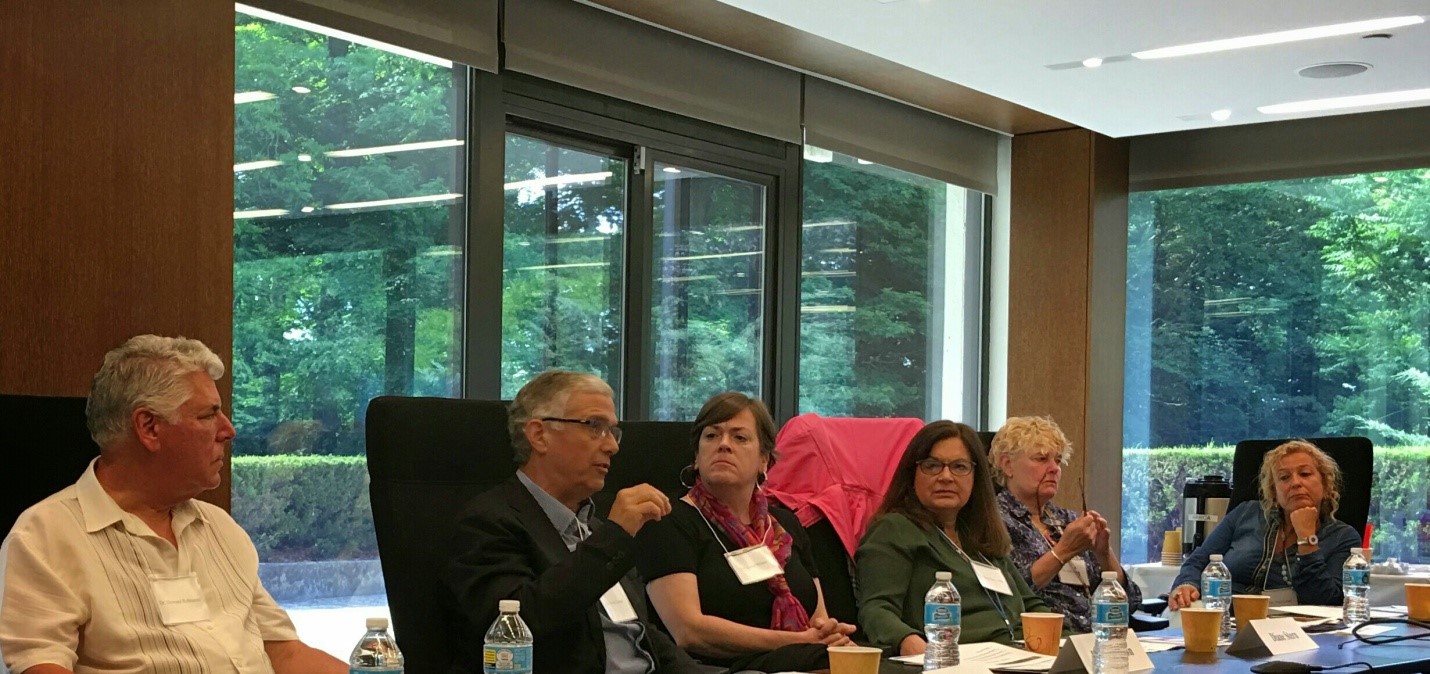 Prof. Mooli Lahad, trauma expert, speaks with community leaders and faculty at GSS Westchester

Prof. Mooli Lahad, an internationally renown specialist in trauma recovery, met with Westchester County leaders in child mental health services and with Fordham GSS faculty directing community-based programs in June at the Westchester campus of GSS to discuss community-based trauma recovery.

Prof. Lahad is a prominent figure in the development of trauma services in Israel and leads crisis response teams to disaster sites around the world, including the United States after Katrina and following the terror attack at the Boston Marathon last year. He founded the Community Stress Prevention Center in Kiryat Shmona – a border region of Israel historically traumatized by war, and he consults frequently with governments around the world to help reconstruct communities devastated by disaster.


Prof. Howard Robinson, clinical associate professor at GSS collaborated with Prof. Lahad in Israel when he was awarded a Fulbright Senior Scholar fellowship in 2013. Knowing Prof. Lahad's outstanding contributions to the field of trauma recovery, Prof. Robinson invited his international colleague to share his expertise with members of the Westchester County Department of Mental Health trauma committee and to further networking and collaboration between GSS faculty and county service providers. Representatives from the Westchester County Department of Mental Health, from Family Ties of Westchester, the trauma treatment program of Westchester Jewish Community Services, the mobile crisis response team from St. Vincent's Hospital, and other community-based agencies attended along with Prof. Virginia Strand, co-director of Fordham's National Trauma Education Center, Prof. Anita Lightburn, director of Fordham's Beck Institute, and Prof. Dana Alonzo, director of The Suicide Prevention Research Program.

"Do we prepare our children to cope with suicide, loss and trauma?"
The topic of the meeting was the challenge of implementing community-based trauma prevention and recovery programs. Prof. Lahad opened the meeting by saying, "Our schools teach many hours of trigonometry but when did you last use what you spent so many hours studying?" "We live in a world where children are exposed to everything in life, every trauma, every sexual act," he continued, "but do we discuss and prepare our children to cope with suicide, loss, grief, and trauma in our school systems?" Prof. Lahad presented a design for creating community-based resiliency centers implemented successfully in Israel and shared evidence-based assessment tools to measure the resiliency capacity within communities that help to create and sustain healthy community functioning in a world exposed daily to traumatic stress.
Prof. Ji Seon Lee, GSS Dean at Westchester, announced that this year marks the 100th anniversary of the Graduate School of Social Service and that we celebrate present and future collaborations between our school and community social service agencies.